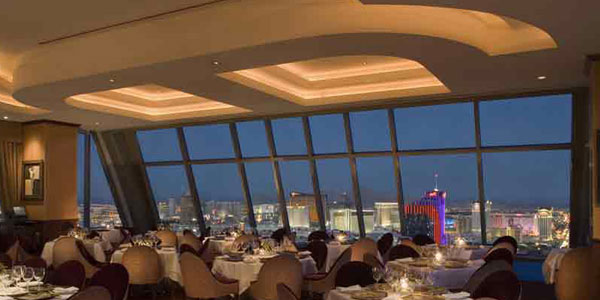 Las Vegas-the 'Sin City' and the 'Entertainment Capital of the World'-with its vibrant and electrifying atmosphere can easily tire you out. So, after you're through with your gambling sprees and shopping jaunts, you'll be desperately looking for a cozy bistro or eatery to satiate your ravenous belly by putting your feet up. Las Vegas sees footfalls of approximately 40 million tourists annually and the cuisines it offers is marvelously representative of the diverse visitors. You'll find everything here-from Mexican tortillas to Japanese tiramisus and from Brazilian barbecues to English fish and chips. Following are some of the topnotch diners and restaurants in Vegas where you can have your fill.
Bardot Brasserie, Aria 3730 Las Vegas Blvd S Las Vegas
The perfect way to start your morning or rather day is to opt for a nourishing and delectable breakfast of brioche French toast with almond brittle, croissants Benedicts, and poached eggs. Lap up the awe-inspiring ambience of Bardot while you wait for your order to be served and admire the sizzling array of wines and champagnes. As you get carried away by the aroma wafting out of the kitchen and observe the early morning guests tucking into their repasts, you realize that you've arrived.
Bouchon, Venetian Palazzo, 3355 Las Vegas Blvd S Las Vegas
Thomas Keller is the owner-cum-head chef of Bouchon who dishes out mouthwatering French fares. So, feel honored to be treated like a royal when you order an onion soup, streak frite, barbecued salmon, and roasted chicken with bacon-chive waffle.
Carson Kitchen, 124 S 6th Street #100 Las Vegas
Kerry Simon who established Carson Kitchen is no more but his name is etched in every single meal enjoyed by the patrons. If comfort food is what you're after, then you should drop in at Carson's.
Bazaar Meat, 2535 Las Vegas Blvd South Las Vegas NV 89109
Andres' is the boss here who adds creativity to every dish rustled up in Bazaar Meat. Bazaar Meat was felicitated as the '2014 Vegas restaurant of the year' by Eater. You'll know why when you order a dish from the eatery's eclectic menu.
Hakkasan, MGM Grand Hotel & Casino 3799 Las Vegas Blvd (S) Las Vegas
Enjoy the best of both of the worlds-nightlife and finger licking food at Hakkasan cocooned inside the majestic MGM Grand.